The SLAS (Society for Laboratory Automation and Screening) conference in San Diego, held recently, was a grand gathering of thousands of attendees and nearly 400 exhibitors. Among a wide range of topics discussed, a common theme emerged - the growing recognition of the need for data integrity and archival in scientific research. In this blog post, we delve into the top three factors that ensure success in this field, highlighting the critical role played by GLP and cGMP.
Canva Design DAFct478DFI
A Shift in Perspective
"The conference's discussions and exhibits on laboratory automation, screening, and analysis were impressive, but the growing recognition of data integrity and archival was even more refreshing. Among the buzzing advancements in scientific data management and automation, it was heartening to see that data security and preservation were gaining recognition as essential components of scientific research.

My conversations with representatives from several companies, including those offering data management solutions, underscored the importance of prioritizing data security and archival. They affirmed that many organizations now understand that data management is critical to ensuring the integrity and longevity of research efforts."
- Andreas Suchaneck CEO at biomedion
Data Management is Key
Historically, data management was considered secondary to scientific research and discovery. However, the emphasis on data security and preservation highlights the shift in perspective. Robust data management strategies are vital to the integrity and longevity of research efforts, especially in a data-driven scientific era.
Besides data management, the conference also featured talks and presentations on laboratory automation, screening, and analysis. The latest advancements in robotics, artificial intelligence, and other technologies were inspiring, revolutionizing the scientific research and experimentation approach.
Key takeaways from SLAS 2023
Comprehensive Scientific Data Management
In a world where scientific research is increasingly reliant on data, having a well-designed and comprehensive data management strategy is more important than ever. From capturing and analyzing data to storing and archiving it for the long term, ensuring the integrity of research data throughout its lifecycle is a critical component of success.
Robust Digital Archives
As the volume of data generated in scientific research continues to grow, it becomes increasingly crucial to have robust digital archives. Raw data archiving is particularly vital for maintaining data integrity and ensuring the authenticity of research. Therefore, a robust digital archive must be secure, reliable, and accessible for the long-term to preserve scientific data accurately.
Adherence to GLP and cGMP Regulations
Adhering to Good Laboratory Practices (GLP) and current Good Manufacturing Practices (cGMP) is paramount to ensuring data integrity and accuracy in scientific research. These regulations establish standardized processes, guaranteeing the reliability and reproducibility of data. Additionally, adhering to GLP and cGMP can help prevent data loss or corruption.
To achieve success in maintaining data integrity and archival in scientific research, organizations must prioritize a comprehensive scientific data management strategy, robust digital archives, and adherence to GLP and cGMP regulations. As scientific research becomes increasingly data-driven, it is critical to prioritize these components to preserve the integrity of research efforts. By doing so, organizations can ensure that their scientific data remains accurate, accessible, and useful for years to come.
Why would someone invest into
Comprehensive Scientific Data Management

in 2023?

Increasing Amounts of Data: As the life sciences industry continues to generate more data than ever before, effective management and archival of this data under GxP is becoming increasingly complex and challenging. Robust data management and archival solutions are needed to ensure the integrity and authenticity of raw data.

Regulatory Compliance: To meet regulatory requirements such as USFDA 211.68(b) CFR, EU Annex11, 21 CFR Part 58.190 Storage and retrieval of records, and OECD guidelines for data integrity and cGMP compliance, laboratories must follow proper data transfer and archival procedures. Comprehensive scientific data management and archiving are essential components of compliance, ensuring the traceability and integrity of data.

Need for Collaboration: Collaboration is becoming increasingly important in the life sciences industry as organizations seek to work together to solve complex research problems. Robust scientific data management and archiving solutions facilitate global collaboration by enabling secure and efficient access to shared data around the world.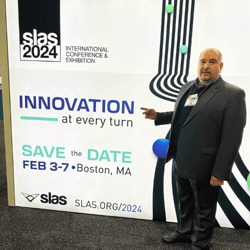 We hope to see you in Boston for SLAS2024, February 3-7, 2024. Watch for the official SLAS2024 details to be released soon.